Sahin Has The Devil's Own Luck - Kaka Will NOT Play Against Real Oviedo Tonight


Stick this post under transfer rumours, I suppose.

Kaka, who was on the team sheet for a few minutes this morning, has been removed - without explanation - a few hours after meeting with Mourinho and his father (who is also his agent).

Why is this interesting? Sahin, who has gastroenteritis (will the football Gods please, please give this kid a break? PLEASE?) is also not listed, but with an explanation (that he has the devil's own luck when it comes to his health).

And since we all love trashy tabloids - Marca and As are gleefully speculating that Kaka is on his way out - though who would take on his wages of nearly 12 million per annum is unclear.

Here's their evocative cover for today: Madrid to Kaka - Go!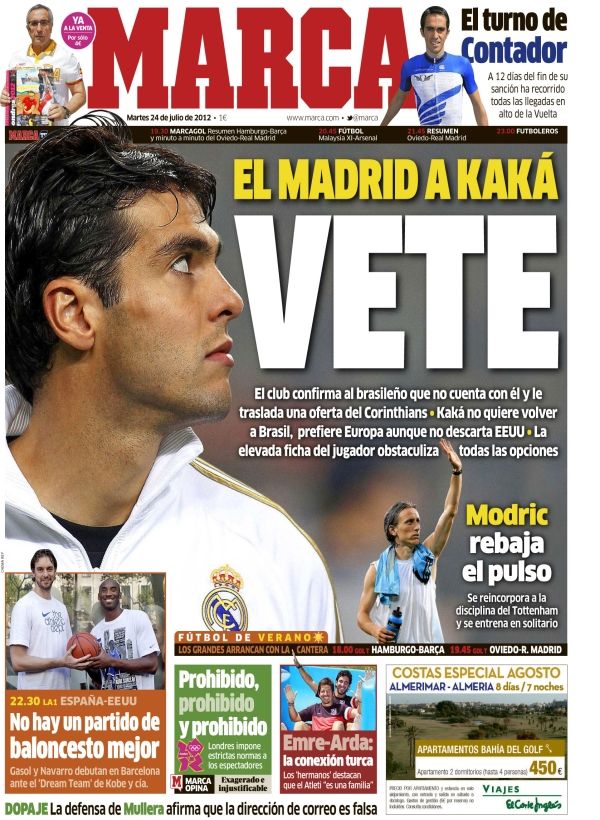 Out 40 minutes ago.
Modric looks like a 50 year old woman in that picture at her gym after a work-out.


LINK TO AS IN SPANISH - Article entitled: Madrid To Kaka: You Are Superfluous, Get Yourself A Team.
LINK TO AS IN ENGLISH - Article entitled: Kaka Closer Than Ever To Leaving Madrid


Things to note: Kaka cost us an excess of 100 million by my count - nearly 70 million to bring in, about 35 million in salary. That does not include the income tax, if his taxes were included in his contract.

This would also seem to suggest the team is quite certain of getting Modric - which seems an underestimation of Daniel Levy's powers of bloody-mindedness (according to Tottenham fans, at least) - or perhaps an agreement has practically been hashed out and both sides are being bloody-minded for fun.

Well then - that's all the rumour we have for this morning...

.