Conspiracy Theories: A Strange Thing Happened On The Way To Mesut
Özil
's Twitter Account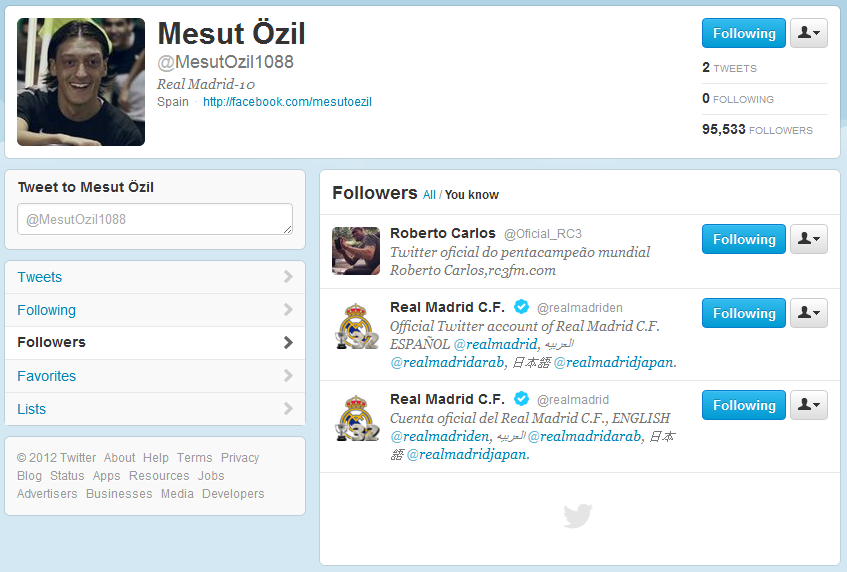 Yes, he's joined. Yes, he's been welcomed by Alvaro Arbeloa. Yes, known admirer Roberto Carlos is following him already. Yes, you can join in by following him HERE. But what really happened when Mesut Özil got his Twitter account?

An investigative analysis by
jenny_jenkins,
die4shin_sin,
sunrise969,
magician10 &
sashatwen,
suzanne410 with screen captures by
andriy_7



The Background

Observers of the Mesut Özil phenomenon should be aware that he lives a rather sheltered life in a large house with a pit-bull bull-dog called Rocky and a series of relatives who visit him in shifts, two of whom are employed by a "management company" run by his father and who live with him permanently. There is also his brother, a frequent visitor.



Mesut with Rocky the Pitt-bull

Bull-dog



What these two relatives do, aside from collecting pay-cheques, is unclear. A sympathetic (to Mesut) magazine article on the way in which his father runs his business affairs referred to them derisively as "the two housekeepers in Madrid". They always stay with him, they do "tasks" around the house, and they keep him company. When he is photographed about town, at clubs, or post-game chatting with people in the stands they are always there.

It is worth keeping this in mind while reading this tale of Mesut's Twitter adventure!


Monday, July 9. 2012 - approximately 12:00 ECT

It was a lovely, sunny day. Off in Jakarta, Indonesia
die4shin_sin logged into her Facebook account to discover, to her delight, that Mesut had posted an entry! Things were looking up!

A quick look at the entry however and things got weird, fast.

It was a picture purporting to be Mesut...but it wasn't Mesut. It was a photograph posted several months ago before the trip to play CSKA Moscow on Sergio Ramos's Facebook page of perpetual team torture victim Manolín being manhandled on his way to the aeroplane with Ramos claiming he didn't want to go because of the cold.

Manolín and Mesut might be confused for one another by some - slightly shorter than Ramos, black hair; and bizarrely cute - and Manolín was in profile. But honestly - Mesut's nose, ears, hair-line and hands are completely different, as any of his devoted fans will be able to tell you. Also, Manolín's androgyny, such as it is, is far less pronounced than Mesut's. Let's just say: no woman would make this mistake.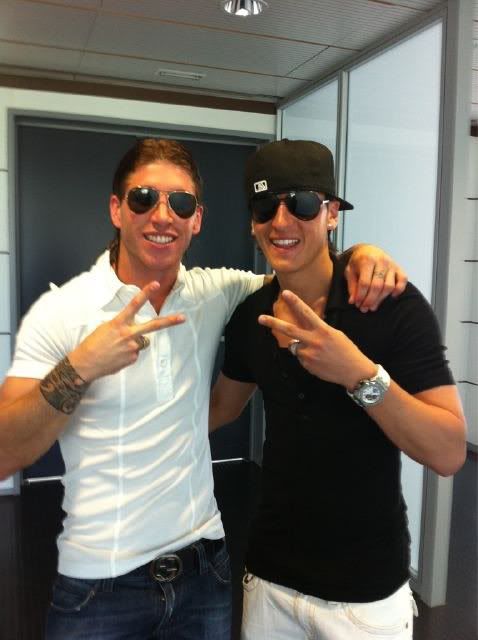 Manolín vs Mesut

:

A Study in Melancholy Androgyny



Mesut is not, of course, a woman. But surely he would be the one man on earth who wouldn't make the mistake of posting a picture of himself that was not of himself?

Sensible Özil fans (and
die4shin_sin is nothing if not sensible) agree: when in doubt, post stuff for his other fans to scrutinize. It was funny, after all! Why not have a giggle over it and a general community discussion over this mystery?

And as it happens Bild Zeitung (Germany's largest tabloid) entirely fell for it, posting an entry on their website entitled "Ramos Ties Up Özil" (oh, if only) complete with the picture until savvy, almost certainly female, readers gave them the heads up.


8 Hours Later...

That same day, many times zones away in beautiful Victoria, British Columbia,
jenny_jenkins woke up and checked her LiveJournal notifications. Oh joy!
die4shin_sin had posted! It was only 7 o'clock and the day was already looking up!

She read the entry and noticed what every German speaking fan who ended up reading the Facebook post would - not only was the picture of Mesut not of Mesut it was...weird...as in, the German accompanying the entry really, really sucked. It was, in fact "Babelfish German," as
sashatwen (mid-way between Jakarta and Victoria) so succinctly summed it up on another site.



Mesut, wtf???



Why would Mesut, whose written German is always perfect, write in Babelfish?

Well - possibly he was still hung-over from that trip to Vegas with Samir Na$ri, but it was odd. Heavy drinking has never caused
sashatwen to forget the elements of German grammar. Perhaps Mesut reacts differently to alcohol?


Tuesday, July 10. 2012

Another lovely, sunny day. Another beyond-weird announcement. Mesut was on Twitter!




Well, why not? "Soy Muy Feliz" is only 13 out of 140 characters after all, and you could say the medium was made for him! He's not exactly loquacious is he? Short and to the point is how one would describe most of his Facebook entries and there's a reason most of his interviewers want to throw themselves off a cliff when they are done.




Aside from being "muy feliz" or "very happy" or "sehr gluecklich" or announcing that Crispy Ronaldo is "an awesome guy" there's just not much to your typical Özil interview, truth be told.

But with the odd Facebook entry still fresh, Sensible Özil Fans were agreed: they were withholding judgment.

Yes, Arbeloa had greeted Mesut, which would normally mean it was legit:



The Twittering Welcome-Wagon



Yes, the Real Madrid website people had got involved:







And yes, the Twitter account name @MESUTOZIL1088 is EXACTLY the one Mesut would have chosen if he'd chosen it - it is, after all, on the license plate of his Fuck-me Ferrari -



10 for his shirt number (or October); '88 for his birth-date



But still, best to be wary, eh?


Wednesday, July 11. 2012


Another day, another Facebook entry. Another bad, really awful, terribly bad, just terribly awfully bad day for the elements of German grammar.




This translates to something along the lines of: Hello friends. I'm in the USA and don't have regular Internet access. When I get back I'll post a few pictures of my trip and share some experiences. I love all of you.

But really, to get how fucked up the grammar is across in the English translation is quite impossible. Several words were misspelled, the verb endings are sort of...random...and there was that weird declaration of love at the end.

Mesut is not someone who normally declares love for his fans at the end of his Facebook entries. Like, never. Not at all. He writes something really short in English, German and Turkish and he ends it with "Euer Mesut" and nothing else. Invariably. And anyway: Nike writes most of it.

That's not to say he doesn't post stupid things occasionally, like this picture of himself blowing a kiss at the camera last year on a day when the bottle tan had yet to wash off -


Sensible Özil fans did a collective
"WTF?" when this surfaced.



But that was definitely a one-off. In the main, his entries are sensible and well-written and even his highly supervised flirtation with Lira Bajramaj last April was sensitive and well-done.

By this time the consensus among Sensible Özil fans was pretty much unanimous: his account had been compromised. Likely: one of the housekeepers/cousins/unemployed hangers-on had got a hold of his password and was posting for him. And whoever had taken on responsibility for this had failed to realize that typing the Turkish version of whatever it was he/she/they wanted Mesut to say in German into Google Translate would have got him/she/them a better version of what ended up online. (We know, because
sunrise969 took the time to check).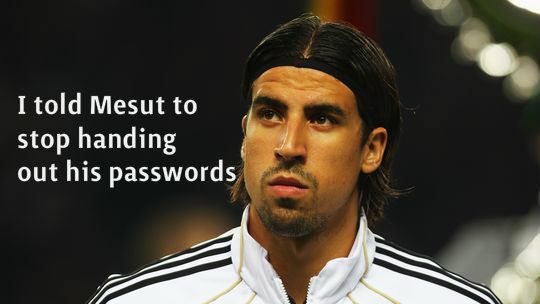 And frankly, from what we can glean of Mesut's love for social media ("The fans are important but I just don't have time for it") another consensus was building: it was entirely likely that he hadn't set up his Twitter account either.


Damage Control


For now however, the grammar was the chief problem! Mesut has enough grief from racist fans who claim he's not German, and those other fans who claim he's not Turkish either and those other ones who clutter up his Facebook account with "Kurdish power" messages. Why add fuel to the fire?
magician10 took matters into her own hands by leaving a pointed message on the Facebook page to the effect that this German was unacceptable and could whoever was obviously posting in Mesut's stead please clear this up?


jenny_jenkins had to be forcibly restrained from giving in and joining Facebook to do just that.

It seems to have done the trick - either that, or Mesut's Nike overlords who must occasionally police the crap he posts on his page stepped in, or Sami Khedira took time off from cuddling fiancee Lena Gercke at the edge of the Grand Canyon to fire off a text-message reading "WTF Bug-eyes? Fix your page and stop bothering me, I'm cuddling Germany's most adorable girl on the edge of a cliff and I don't have time for you. I've warned you before about cries for attention etc..."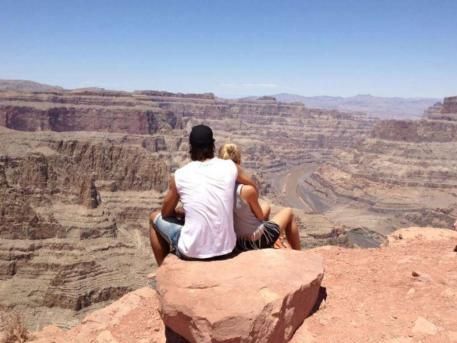 Sami doesn't have time for this shit.



- because a few hours later a much more typically Mesuty offering replaced the epically bad German of the original -






And there it was: correct grammar, short and sweet, with "Euer Mesut" signing off, as always.

The post of Manolín and Sergio Ramos then disappeared, leaving only the corrected message and Mesut's announcement he was on Twitter. Those are his only two posts since his final, non-suspicious post of best wishes for his friends on the Spanish National Team for their success in the Euro final.


The Aftermath

Mesut has yet to disown his Twitter account. The final consensus among thinking fans: he's decided to live with it. After all - whoever set it up knows him well enough to know it's precisely the username he would have used (see the license plate of Mesut's Fuck-me Ferrari, above). And besides, Fernando Torres set up his Twitter account in November of 2010 and has yet to tweet. Celebrity Twitter accounts are designed to be ignored. It shouldn't cramp his style, at any rate.

But just one last thing: would our bug-eyed sweetheart please change his passwords? There's a good boy.

You can join Mesut's Twitter HERE. Don't be expecting any overpowering wit or wisdom ;)

And that, is that.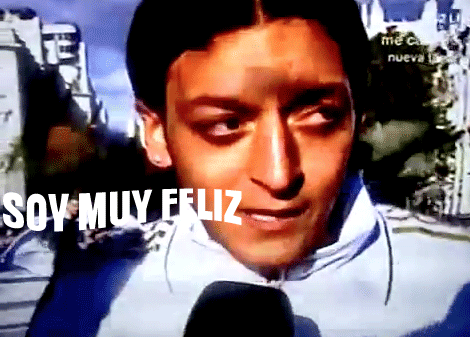 I leave the final, sensible word on this sad tale to Virginia State Southern Belle
suzanne410

who always has a sensible observation on anything to do when the Özil phenomenon: I say he needs to leave the debauchery of Las Vegas and get on a beach somewhere so we can make fun of his swimsuit already!

Well that's hardly difficult is it? This is Mesut Özil world, after all. Things are always lolzy in "The Madrid Brotherhood of the Travelling Swim-trunks."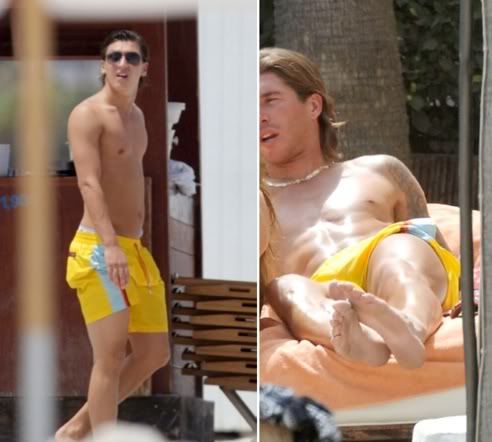 .
.