Latest Transfer Stuff: Liverpool Want Callejon, Carvajal Off To Leverkusen, Kaka & Altintop Out?
Before we start this review of trashy newspaper rumours involving our beloved players that may or may not be true, that
other
rumour you may have heard is true! This writer can confirm with bated breath that
Marca
and
As
now have English-version sites of their badly sourced stories about locker room tensions, training ground spats and unverifiable transfer rumours!
Sad day for Google Translate, but as far as we are concerned: when God closes a door, he opens a website!
Here is an example of the sort of freak-out stuff we now have the pleasure of reading
FROM AS IN ENGLISH
Callejon to Liverpool for 9 Million?
"He's mine!"
As.com | 11/07/2012
Liverpool are interested in signing José Callejón, as the 'Daily Star' printed today. The English club think they'll be able to make off with the services of the player from Granada in exchange for nine million euros, four million more than Real Madrid paid Espanyol for him in 2011.
Brendan Rodgers, the new Liverpool manager, asked that the club attempt the transfer of the player after the Reds' primary option, the Icelander Gylfi Sigurdsson, confirmed his move to Tottenham a few days ago. According to the English paper, Rodgers is confident that the operation can be finalized in a short time.
But the words of the player's agent, García Quilón, suggest differently. Speaking to the website 'Fichajes y cracks' ('Transfers and stars"), Quilón said that "there are a number of teams that want Callejón", but was quick to add that "he's non-transferable and the club are not going to sell him."
Well, if the Daily Star is saying it, it must be true, right? And while I'm sure we're all very sorry Liverpool couldn't have Gylfi Sigurdsson -
Random pic of Icelandic hottie
- Who do they think they are taking our fruit-vendor?


Dani Carvajal to Bayer Leverkusen
This, at least, is good news.
For the love of Christ, please shave kid.
Why are you hiding that face? Why?
One of the Real Madrid B has made the big step up to the big leagues in some serious style, signing for a top team in a (frankly) superior league, which is in the process of completely revamping its squad, having made seven signings this summer. Give yourself a well deserved pat on the back bb!
Bayer Leverkusen are paying a rather excessive, on the face of it,
5 million
. They're a club that are rolling in money (owned by a Pharmaceutical giant, of course) but still. For comparison: Sami Khedira, league winner with Stuttgart (an actual first division team in a top league) scorer of the winning goal for his club in the league cup, with Champion's league experience and a regular starting player in one of the world's scariest national teams - cost Real Madrid 6 million when we bought him. Even transfer market twits Liverpool are only offering 9 million for Callejon (see above)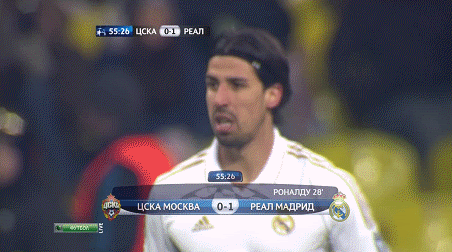 Gratuitous, hot Sami Khedira gif to go with
gratuitous Sami Khedira transfer market comparison.
Why the difference between an established player and some kid from the Spanish third division no one in Germany has ever heard of?
Well that's the good news from the point of view of many Madrid fans: there's reportedly a buy-back clause.
Which would explain his slightly tactless statement on signing that he hoped to be back at Madrid in two years, rather than that he hoped to impress his new fans etc...
The transfer has been
greeted with some gentle teasing in the German press
. Mourinho's personal recommendation is apparently responsible for the move and the price, and if he's as good as everyone who pretends to watch third division Spanish football says, Leverkusen fans should not be disappointed.
Good luck cutie. Please consider shaving. See you, maybe, in two years. Enjoy the beer, the insane fans, and bring us back a pretty German WAG, please and thank you.


Kaka

Rumours this week are a bit of a rehash of everything we've been hearing for about 2 years now.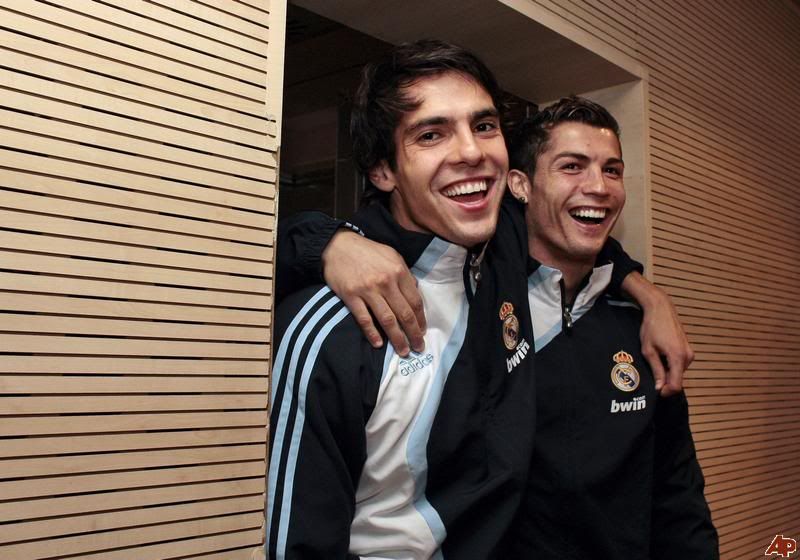 Bromances potentially breaking up is the worst part of transfer season.
As
are
reprinting a rumour
from the slightly more reputable
El Corriere dello Sport
(of Italy) that he's on his way out of Madrid.
Kaka is possibly the most popular player in China, and with huge names in football moving to China, rumours about a move to Guangzhou Evergrande seemed plausible a few weeks ago.
They are now supposedly entirely ruled out however.
(Article links to the
Daily Mail
) The club has purchased too many foreign players and buying one more would exceed their quota. The article quotes the director of the team, but making up quotes is hardly above the
Daily Mail.
And our old favourites
El Mundo Deportivo
(who are always good for a vicious, lolzy rumour) are reporting that Mourinho is not going to go take Kaka along on the American pre-season tour. With less than a week to go until that tour starts, we'll have to see, won't we?
When considering rumours however, it is worth remembering that he's supposedly been on his way out of Madrid for a solid two years now (and counting) and he hasn't gone anywhere yet. If Chelsea manage to get Modric before we do then these rumours will likely disappear again.
Hamit Altintop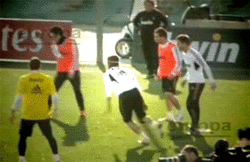 Team practice torture-and-prank victim Hamit Altintop (above) who memorably and unforgettably matched Lionel Messi's away goal count for two months only a year after stealing his Ferenc Puskas award for best goal of the year
is supposedly on his way to Galatasaray.
If Barca meet up with that team in the group stages of the Champion's League let's hope Hamit's bizarre talent for thwarting Messi continues ;)
For the captain of Turkey's national team to end his career in Turkey (where his status is huge, and the money is good) makes perfect sense, actually. This rumour, from a common sense point of view, can probably be taken as Gospel.
Let's hope Mesut Ozil (Fenerbache fan) doesn't take this too badly.
Good luck sweetheart.
A Final Note
No credible rumours are linking us to any equally credible, experienced right-back (does Maicon count?). This is either because the club is keeping their top-transfer news secret, or because good right-backs just don't exist (with the exception of Philipp Lahm, of coure) or are not transferable (Philipp Lahm gets homesick for Muenchen when he visits Nurnberg), or would cost too much if they were available (Philipp effing Lahm).
Boo hoo.
Have I ever mentioned that Philipp Lahm plays equally well on the left or right?
.